---
In what can only be described by reasonable people as pathetic political manipulation, seven Democratic lawmakers showed up at an Immigration and Customs Enforcement detention facility over the weekend and demanded access.
The group of seven — New Jersey Reps. Bill Pascrell, Frank Pallone and Albio Sires, as well as fellow New York Reps. Jarrold Nadler, Hakeem Jeffries, Carolyn Maloney and Adriano Espaillat — made their obnoxious, unannounced visit on Father's Day, of course, for maximum political effect. 
As reported by Fox News, the pathetic display included "demands" to see families being detained at the New Jersey-based facility along with one member literally banging on a door, while another physically held a door open.
"We have gotten the door open at the Elizabeth, NJ ICE detention center and refusing to let it close until we are given access to the detainees," Nadler tweeted. 
Fox News noted further:
The Father's Day episode was the latest in a series of similar trips by Democratic lawmakers to immigration detention centers, which are part of a broader effort to draw attention to the family members who have been separated by federal authorities while illegally crossing the border from Mexico into the United States.
Pascrell at one point complained on Twitter that ICE officials were making the lawmakers wait for nearly an hour after telling them they would be accommodated in about five minutes.
He then complained that ICE was following protocol — forcing the group to go through security because everyone does (which is procedure). What's more, the facility granted the delegation access despite the fact that the rules state only "friends and family" of detainees can come in — and then only during visiting hours.
"Now they're asking us to empty our pockets like we're common criminals? We are duly elected Members of Congress — and we want access," he arrogantly tweeted.
"The Congressman came unannounced but ICE accommodated their request and they were allowed to visit and meet with several detainees," said ICE in a statement.
Where were they during the Obama years?
Earlier this month immigration officials and local police denied Democratic Sen. Jeff Merkley — who represents Oregon — entry to a facility in Texas, with one employee telling him to "please go away."
At the New Jersey facility, Pallone said, "We're here to stand against the Trump admin's policies that have led to a sharp increase in detained immigrants and separated families." (Related: Amazon caught selling portable concentration camps to imprison children at the border… cue HYSTERIA.)
What's disgusting about all of this is that it's phony. What's taking place at the U.S.-Mexico border, largely, has been going on for years. It happened during the Obama administration as well, but these hypocrite Democrats weren't about to protest then because…Obama.
In fact, as Democratic Rep. Henry Cuellar of Texas admitted recently, the situation during Obama's administration was intentionally downplayed and kept quiet (thanks to a largely compliant Pravda media), even though some kids were literally being kept in cages while others were handed over to criminal human traffickers.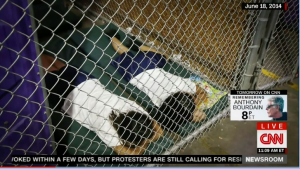 Where were these Democrats then? Nowhere to be found.
So if this has been taking place for some time, why are Democrats feigning outrage now? 
Part of the reason is hammer Trump on another issue (though Trump was elected, in large part, by promising to do exactly what he's doing on the border). 
But Democrats and their partners in the Pravda media have manufactured this "crisis" now because they can't acknowledge or report how good the country is doing under Trump. 
Record low unemployment (including for minorities and women). Satisfaction with the direction of our country is at a 12-year high. The stock market continues to grow, fattening retirement accounts for average Americans. U.S. economic growth is leaving the world behind. 
That's all due to Trump and, to some extent Republican, policies and leadership. 
Since the Democrats won't credit him and the Pravda media can't because of Trump Derangement Syndrome, they've come together to manufacture a "child migrant crisis" that doesn't exist.
Read more about what goes on at the border at InvasionUSA.news.
J.D. Heyes is also editor-in-chief of The National Sentinel.
Sources include: